Products
We address the pharmaceutical and compounding service demands of patients and physicians in Dallas - Fort Worth Metro Area.
KK's Pharmacy offers the following products:
Diabetic Supplies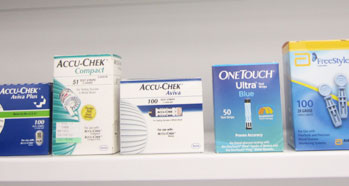 KK's Pharmacy offers the following diabetic supplies at affordable rates:
Blood Glucose Monitoring System
Diabetic Socks and Shoes
Diabetic Supplements
Insulin Pump Supplies
Insulin Syringes
Pen Needles
Test Strips
DME (Durable Medical Supply)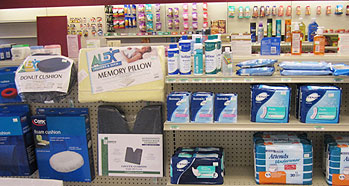 Our inventory lists a wide range of durable medical supplies including but not limited to:
Hospital Beds
Incontinence Care Supplies
Medical Socks and Stockings
Orthopedic Supplies
Respiratory Care Products
Seatings and Cushions
Syringes and Needles
Walkers
Wheelchairs
Wound Care Supplies
Eye Care or Ear Care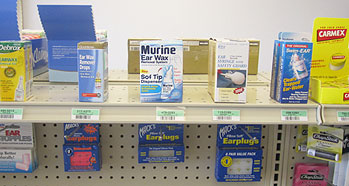 KK's Pharmacy holds a collection of eye and ear care supplies.
Eye Drops
Lens Care and Solutions (Contact Lenses)
Eye Masks
Ear Cleaning Kits
Ear Drops
Cough and Cold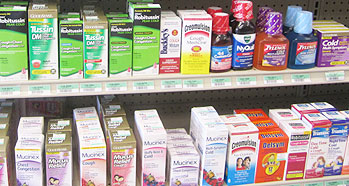 Coughs and colds may be minor ailments but they can be major inconveniences. For the best cough and colds relief products, check out these items at KK's Pharmacy:
Cold Tablets
Flu Tablets
Nasal Decongestants
Sinus Pain Relief Tablets
Cough Lozenges
Sprays and Gargles
Antacids/Laxative/Constipation
Trouble with indigestion and similar discomforts? Turn to KK's Pharmacy to purchase Antacids:
We hold antacids/laxative/constipation products from different brands and distributors:
Antacids
Alkaseltzer Tablets
Gaviscon Tablet
Gastrolyte
Charcocaps Capsules
Eno Fruit Salt
Mylanta Antacid
Prilose
Prevacid
Pepcid
Zantac Relief
Laxative
Ex-lax
Senokot-s
Senna-plus
Imodium-ad.
Constipation
Dulcolax
Metamucil
Citrucel
Fleet
Mag Citratrate
Milk of Magnesia
Miralax
First Aid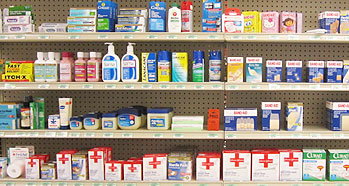 At KK's Pharmacy, we hold items that are first aid essentials.
Over-the-counter drugs
Adhesive Bandages
Bandage Scissors
Alcohol Wipes
Antiseptic Hand Cleaner
Antibiotic Ointment
Instant Cold Packs
Barrier Device for CPR
Cosmetics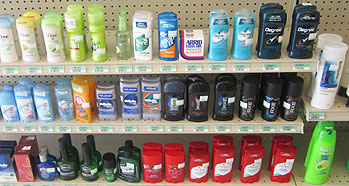 You can purchase cosmetics and beauty products from KK's Pharmacy:
Bath & Body Products
Hair Care
Skin Care
Fragrances
Make Up
Sun Care or Sun Blocks
Hair Removers
Baby Care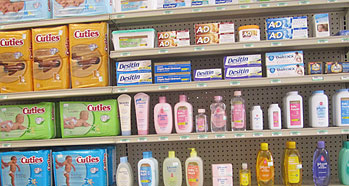 You baby deserves the best! Purchase baby care supplies from KK's Pharmacy:
Baby Bottles
Baby Shampoo and Soaps
Lotions
Nasal Drops
Breast Pumps
Comforters
Teething Relief
Feeders
Diapers
Baby Formula
Baby Powders
Allergies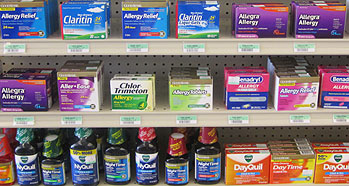 Stop allergies from ruining your day! Stock up on anti-allergy and allergy relief products;
Antihistamines
Allergy Eye Drops
Homeopathic Allergy Relief
Pain Relief Tablets
Nasal Spray for Hay Fever
Skin Creams
Pain Relief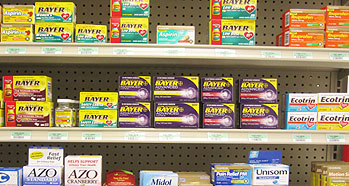 For patients who have been prescribed by their physician to receive pain medication, KK's Pharmacy is able to provide you with the supply. We also hold stocks for over-the-counter pain medication.
Pain relief medications can come in different forms. KK's Pharmacy offers:
Application Sticks
Capsules
Creams
Gels
Injectables
Lozenges
Sprays
Tablet Triturates
Troches
We carry a wide range of medical products and supplies. We try to keep up with the items frequently recommended by your healthcare providers. If we do not carry certain items that you need, we can order for you. Please check with us.